Ever wanted to not be seen for a while? Ever wanted to eat bread? Well now we can solve both those problems at the same time! Make this awesome bread using a bit of Spooky Flour and when you eat it it will fill your tummy and if you're lucky you'll be invisible for 1 minute!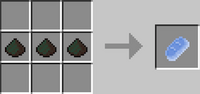 Thanks to D4K for this great idea.
Ad blocker interference detected!
Wikia is a free-to-use site that makes money from advertising. We have a modified experience for viewers using ad blockers

Wikia is not accessible if you've made further modifications. Remove the custom ad blocker rule(s) and the page will load as expected.